Account Executive
Email: will@johnhackneyagency
Direct Dial: 252-265-8052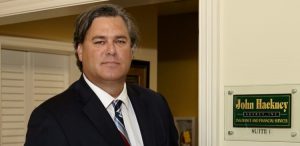 Will was born and grew up in Goldsboro, NC. He graduated from East Carolina University in 1991. After 11 years in the pharmaceutical business, he decided to make a transition into the insurance business and joined John Hackney Agency in 2010. He's been successful in the insurance business from the start because he enjoys living and working in eastern North Carolina and loves working with his clients.
During his free time, he spends most of his time with his wife, Matilda, daughter, Parker, and son, Henry. He loves coaching baseball, grilling local foods (and is a big farm to table concept guy), and volunteering at Saint Paul United Methodist Church. He's active in the Goldsboro community and has a special place in his heart for Hyde County where he visits often.
Will specializes in Commercial Insurance with an emphasis on Agricultural, Municipal, Contracting, Property, Casualty, Habitational, and Large Commercial Accounts.