Accounting Director
Email: ljb@johnhackneyagency.com
Direct Dial: 252-265-5450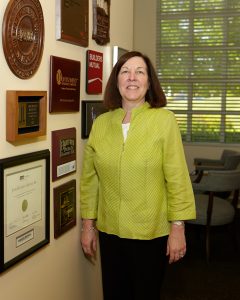 Lisa joined John Hackney Agency in May, 1979 upon graduation from Atlantic Christian College (now Barton College). She learned the insurance business the fastest way possible as the agency claims manager. Shortly thereafter, she took over the agency accounting as well as continuing her claims work. In time, the claims function became more automated but the accounting became more complex and eventually accounting became Lisa's sole focus.  Lisa works closely with management taking care of finances, human resources, and licensing, as well as working with all the employees on daily processing, billing and collections.
She was born in Robersonville and grew up on a farm, learning at an early age the benefits of hard work. One of her greatest pleasures is visiting family in Robersonville where her mother still lives and cooks wonderful homemade country meals.
Lisa lives in Elm City with her husband, Johnny, and has one step-son, Erick, and one daughter, Crystal Hardee. She loves spending time with her grandchildren, Christian, Austin, Evy, and Max, and is active in her church, Elm City Methodist.