Vice-President
Email: jnh3@johnhackneyagency.com
Direct Dial: 252-265-5454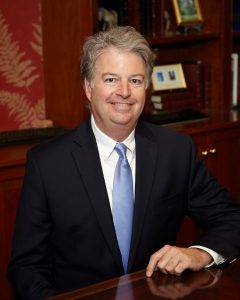 I started my "unofficial" career with John Hackney Agency way back in the sixties. When I was in elementary school, I would work after school for my dad delivering calendars and desk books to all the customers within walking distance of the old offices at both 112 Nash and 111 N Pine Street. That gave me a chance to explore a lot of the downtown office buildings of the day and other interesting nooks and crannies of Wilson. And that was a lot of customers – my dad would pay me 5 cents for each completed delivery. Plus, I think he considered most all of his customers to be within walking distance of downtown! My "official-grown-up" insurance career started in the fall of 1976 after finishing college at The University of North Carolina at Chapel Hill.
Community involvement and service is important and a way of life for all of us at John Hackney Agency. I've served as president ofArts Council of Wilson, the Wilson Theater Renovation Committee, All American Kiwanis Club, and as a Board Chair for the Wilson Chamber of Commerce executive committee. I am a current board member of the Arts Council of Wilson and The Vollis Simpson Whirligig Park Committee. I also volunteer time with The Boykin Center for concert planning and helping to keep everything in working order. Involvement is a part of our corporate culture that goes all the way back to the beginning of John Hackney Agency's history.
Interests include playing music (a hobby I've done since junior high), travelling, boating on "Risky Business" (the boat's name is word-play on the insurance business), and heading Down East to The Crystal Coast on weekends and holidays. I think the most surprising thing for people that don't know me well is that I have a love of building things with my hands. And that includes most recently building a cedar outdoor shower at the beach. I'm sure that love is an offshoot of – as a kid – being my granddad Tom Bridgers' "helper" and his love of building things too, which I seemed to have inherited.
One of the most rewarding activities I've done in recent years has been being a member of the VIM (Volunteers in Mission) team at First United Methodist Church in Wilson. Our team has been able to accomplish much with multiple trips to Costa Rica building and repairing church-related projects there. Learning about and interacting with Costa Ricans there and getting to know the country has been a great experience.
With Susan and two grown children – Claire and Drew – life is good!